Bra Size Calculator
bust size smaller than frame size?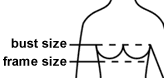 The frame size is the firm circumference directly underneath the breasts.
The bust size is the loose circumference around the chest over the fullest part of the breasts, while standing straight with arms to the side and wearing a properly fitted bra.
Reference
Surveys and studies showed that more than 70% of women in the world wear incorrectly fitted bras. The most common issues are the too large cup size and too small band size. Signs of incorrectly fitted bras include band dig into the torso, red marks, pain in the shoulders or neck, the band sliding up, the breasts overflow from the edge of the bra, the bra's center panel does not lie flat against the breast, etc.
The two major sizes for a bra are the band size and the cup size.
Band Size (Frame size)
The band size is the size of the bra band around the torso. Band sizes vary in different counties.
Size
XXS
XS
S
M
L
XL
XXL
3XL
4XL
5XL
frame size measurement in cm
58-62
63-67
68-72
73-77
78-82
83-87
88-92
93-97
98-102
103-107
EU (standard EN 13402)
60
65
70
75
80
85
90
95
100
105
USA and UK
28
30
32
34
36
38
40
42
44
46
Cup Size
The cup size can be calculated from the difference of the bust size and the frame size.
| | | |
| --- | --- | --- |
| Bust/frame difference in inches | US cup size | UK/AU cup size |
| <1 | AA | AA |
| 1 | A | A |
| 2 | B | B |
| 3 | D | C |
| 4 | D | D |
| 5 | DD | DD |
| 6 | F or DDD | E |
| 7 | G or DDDD | F |
| 8 | H | FF |
| 9 | I | G |
| 10 | J | GG |
| 11 | K | H |
| 12 | L | HH |
| 13 | M | J |
| 14 | N | JJ |
| | |
| --- | --- |
| Bust/frame difference in CM | Continental Europe cup size |
| 10-11 | AA |
| 12-13 | A |
| 14-15 | B |
| 16-17 | C |
| 18-19 | D |
| 20-21 | E |
| 22-23 | F |
| 24-25 | G |
| 26-27 | H |
| 28-29 | I |
| 30-31 | J |
| 32-33 | K |