Math Calculator Plugin for WordPress
Description
This calculator can be used for quick on site calculations.
Compatible: WordPress 2.5 or above
License: GNU GPL license
Download (Version: 1.2)
Screenshot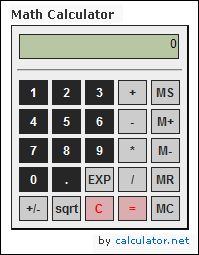 Installation
Unzip "math-calculator-wp-widget-1.2.zip" and upload the contained files to the "/wp-content/plugins/" directory
Activate the plugin through the "Plugins" menu in WordPress
Install "Math Calculator" through the WordPress admin menu of Appearance or Design and then widgets.
Faq
Can I change the look and feel of the calculator?
Yes, you can edit the code after "Edit the following to change the look and feel of this calculator" in math-calculator-wp-widget.php to change the look and feel. You need to have basic HTML understanding to change it correctly.