Bra Size Calculator
bust size smaller than frame size?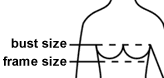 The bust size is the loose circumference measured around the chest over the fullest part of the breasts, while standing straight with arms to the side, and wearing a properly fitted bra.
The frame size is the firm circumference measured directly underneath the breasts.
Incorrect bra fit
Surveys and studies often cite that anywhere between 70-85% of women wear incorrectly fitted bras. While data collection methods between various sources is not consistent and these percentages may be inflated, incorrectly fitted bras are nonetheless a significant issue, evidenced by the number of studies, articles, and complaints surrounding the issues women face due to a lack of size standardization. Studies have revealed that the most common mistake made by women when selecting a bra was to choose too large a back band and too small a cup. Part of the issue is lack of standardization regarding band and cup sizes. These vary largely between countries, and even manufacturers, making it difficult to use these measures as anything more than an approximate fit. A 34B bra from two different companies for example, may not fit the same person because of this lack of standardization.
Some signs of incorrectly fitted bras include the band digging into the torso or sliding upwards, red marks, shoulder or neck pain, the breasts overflowing around the edges of the bra, and the bra's center panel not lying flat against the breast, among others.
Bra size
The two major aspects of bra size are the band size and the cup size.
Band size (frame size)
The band size is the size of the bra band around the torso. However, band sizes come in different measurements in different countries, in that sizes such as small, medium, and large, equate to different measurements. Refer to the table below for some size measurements, though some variation from the published measurements is possible.
Band Size
XXS
XS
S
M
L
XL
XXL
3XL
4XL
5XL
Frame size measurement in cm
58-62
63-67
68-72
73-77
78-82
83-87
88-92
93-97
98-102
103-107
EU (standard EN 13402)
60
65
70
75
80
85
90
95
100
105
USA and UK
28
30
32
34
36
38
40
42
44
46
Cup size
The cup size can be calculated using the difference between bust size and frame size. Refer to the table below.
| | | |
| --- | --- | --- |
| Bust/frame difference in inches | US cup size | UK/AU cup size |
| <1 | AA | AA |
| 1 | A | A |
| 2 | B | B |
| 3 | C | C |
| 4 | D | D |
| 5 | E or DD | DD |
| 6 | F or DDD | E |
| 7 | G or DDDD | F |
| 8 | H | FF |
| 9 | I | G |
| 10 | J | GG |
| 11 | K | H |
| 12 | L | HH |
| 13 | M | J |
| 14 | N | JJ |
| | |
| --- | --- |
| Bust/frame difference in cm | Continental Europe cup size |
| 10-11 | AA |
| 12-13 | A |
| 14-15 | B |
| 16-17 | C |
| 18-19 | D |
| 20-21 | E |
| 22-23 | F |
| 24-25 | G |
| 26-27 | H |
| 28-29 | I |
| 30-31 | J |
| 32-33 | K |